Hi guys!!
After a long time without new posts, I think it´s time to talk about food, because in Huelva you will have the opportunity to try delicious food and drinks, and not just paella and sangria, as you probably know, but some other specialties from the city and region of Huelva.
So... what to eat???
Well, you probably heard about
tapas,
and Huelva, with its hundreds bars and incredible prices, is a perfect destination to try a lot of them!!
Some typical
tapas,
common in most of bars are, for example:
1. Patatas Bravas
Basically, this is a simple and tasty recipe, perfect to combine with a cold beer. Includes fried or boiled potatoes and a spicy sauce.
2. Ensaladilla Rusa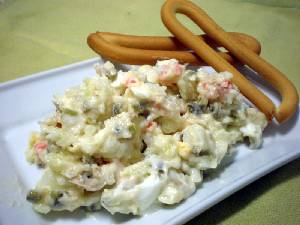 Cold salad made of potatoes and other ingredients as tuna, boiled eggs, peas, carrots... and mayonese.
The recipe changes in every bar, so you will have to find your favourite.
3. Papas aliñás
And potatoes again!! This time are boiled potatoes with onion, parsley, olive oil and vinegar. Really nice!
4. Albóndigas
In Huelva you will find different kind of meatballs, but you can order Albóndigas de Choco (cuttlefish meatballs), a traditional meal difficult to find in other cities. Cuttlefish is very typical in Huelva, and that´s one of the reasons why people from Huelva are known as Choqueros (Choco = Cuttlefish).
5. Tortilla de Patatas
One of the Spanish national dishes... so famous inside Spain and so unknown abroad...
Everyone has his own recipe, and also every bar, but you HAVE to try them!
Ingridients are simple: potatoes and eggs, but you can also find it with onion, chorizo, prawns...
You will love it!
6. Montaditos
Montaditos are small sandwiches where you can put everything inside... just use your imagination!!
You will find vegetarian ones, with meat, with or without sauces... even sweet montaditos with chocolate!!
The picture is in a bar called 100 montaditos, where they offer 100 different sandwiches at a low price.
7. Salmorejo
This delicious cold soup is a must in every Andalusian family, specially during summer.
Is made of tomatoes, bread, garlic, olive oil and vinegar, and most of people add some eggs and iberian ham to their dish to make it even more tasty.
Don´t forget about it, cause if you like it, you can also prepare it at home, since it´s very easy and perfect at any time.
8. Caracoles y Cabrillas
You could think they are disgusting if you have never tried before, but here are really popular and you have to try them!
The season is June-August more or less, so you will have to wait a little bit, but it´s totally worth it!
9. Patatas Ali-Oli
Now you can see how many different styles to prepare potatoes we have! So you must try all of them and choose your favourite.
These are boiled potatoes with ali-oli sauce, a soft sauce like mayonese but with garlic and some other ingredients.
10. Pulpo a la Gallega
This t
apa
is a little bit more expensive, but it´s really worth it. If you like octopus or if you have never tried it before, you will like this style, typical from the north-west part of Spain.
You will find bars where most of these tapas cost 0.90€!!!!!!!! Imagine that!!!!
So get ready to enjoy a lot of nights out, eating tapas with your friends, Andalusian style ;)